It is one of the most frequent questions from our clients and today we are going to explain the difference between an optical fiber laser and a fiber optic laser cutter.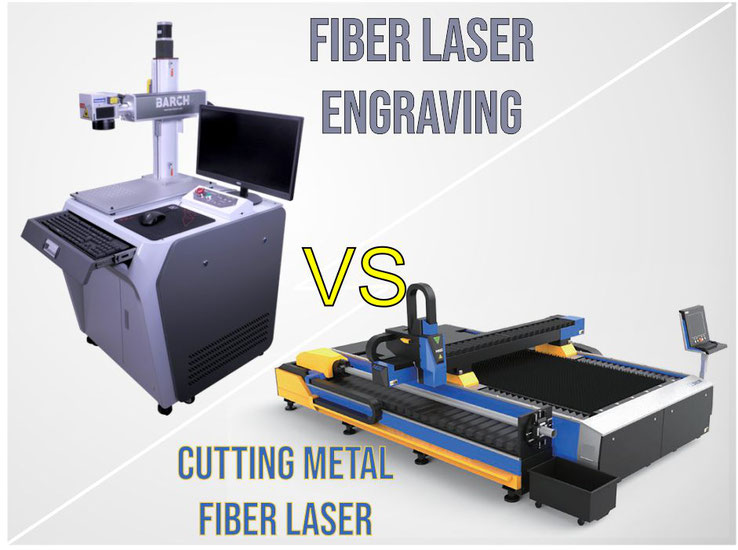 Fiber laser cutting machine
The fiber optic laser cutters are designed to cut metal at high speeds and with great precision. It is a technology with more than 20 years of being in the market, these machines as also use fiber laser power source. There is three main difference between this machines, 1) Power of the fiber source. 2)Head and lens of the. 3) focal distance of the laser beam.
Fiber laser cutting machine
These machines require much energy consume, and also needs an oxygen cylinder for operation and function. This machines can cut metals from 0.5mm to 20mm.
The working sizes of these machines are from 1500mm x 2000mm to 2500mm to 3500mm.
CO2 CNC metal cutting
There is also CO2 CNC laser technology that can cut metals. However, the CO2 CNC laser that can cut metals its designed for cut only stainless steel and carbon steel, and the maximum power cut in this to metals is 2mm.
This machine only can cut Stainless steel, Carbon steel, wood, and acrylic. Other materials don't have a clean and clear-cutting effect. 
The big difference between these two technologies is that the optical fiber laser cutters have a much longer working life, while a CO2 tube for cutting metals had only 20,000 hours of work a fiber optic machine has 100,000 hours of work. Not only that, fiber optic cutting is much cleaner, deeper and faster.
The primary function for what this machine is for cuts of metal materials such as:
Stainless steel
Carbon steel
Aluminum
Copper
Bronze
Brass
It is where the big difference is, these machines are designed only for METAL CUT and cannot make cuts on other materials that are not metal. This machine cannot perform any laser engraving, as its head works by concentrating the light beam of the fiber at a single point to cut.
Fiber laser engraving machine
The fiber optic laser engraving machine uses the same power source as a cutting machine, same technology, but this one uses low power. While a fiber cutting machine uses a minimum power of 300W, the maximum power of a fiber marking is 120 to 150W.
The power supply of the fiber laser cutting machines is from 300W to 8000W.
The power supply for fiber laser engraving machines is 5W, 10W, 20W, 30W, 50W, 100W and 120W this power setups aren't enough to cut metals at high speed as the fiber cutting machines.
Fiber laser engraving Slow cutting effect
The fiber engraving machines can engrave with profound effect, the equivalent to cut metals. This engraving can be from 0.5 to 5mm deep or more depending on the material, the power of the engraving machine and time that the engraving repeats the pattern.
Different head, and focal distance.
Fiber marking machines use Galvanometer heads, this head technology use servomotor inside the head, each servomotor has attached a mirror that reflects the path light of the fiber source creating high-speed engraving.
By other hands, the fiber laser cutting machine uses a different head that can concentrate the high power of the fiber source; also this head is typically very close to the material which allows the machine has an intense laser beam able to cut the metal material at high speed.
The primary function for what this machine its designed is for cuts of metal materials such as:
Stainless steel
Carbon steel
Aluminum
Copper
Bronze
Brass
Among other metals
PLA ABS, Silicon PS PBT among other plastics.
Some garments.
Carbon Fiber
Fiberglass
The laser engraving machines maybe can't cut at high speed as a fiber cutting machine, but these machines can engrave at super high speed over different materials.
Common Questions
Can the fiber optic cutting machine cut on metals?
No fiber optic cutters can only cut.
Can the fiber engraving cut materials?
The fiber laser engraving machines can cut metals, but only small areas and just if you left the machine enough time marking the same area for several minutes.
Can the fiber optic cutting machine cut wood, acrylic or other materials?
No, this machine can only cut metal materials.
Can the fiber optic engraving mark on wood, paper, fruit or other non-metallic materials?
Yes and Not, the fiber laser engraving its designed for marking over metal materials, but it can engrave over some non-metal materials. For more information check in Laser engraving applications, an take a look in some of the materials this machine can mark on.
---
You also may like this blogs.