Do you want to know what is the difference between Raycus, BCF, JPT, JPT-X, MAX, SPI, IPG, and SUPER?  When we are buying a fiber laser machine we can find that many different brands are offering various fiber laser power sources. Some of them are Chinese power source brands, others are USA brands, and others are German brands. Amount all these brands of fiber laser power sources which one is the best? What's the difference between them? Which fiber power laser source is cheaper? Which one is the most popular? In this blog, we want to explain this to let you chose the right machine for your application.

There is a big difference
Many people wonder why some Raycus machines are cheap and IPG is expensive. This price difference is not because one power source is Chinese-made and the other is German-made. The main difference is the engraving result, the quality of the machine, the final warranty, and the materials it can mark. This difference is also between Chinese and Singapore fiber power sources. If we compare JPT, Max, and Raycus, we can find that one of them is better than the rest of the Chinese and Singapore brands.

Is there any way to see how many materials I can engrave with one power laser source or another?
It may be hard to tell which power laser source can engrave a group of materials or not. But you may see the difference in the engraving quality.

You also can check some references for power laser sources parameters here.
Engraving plastics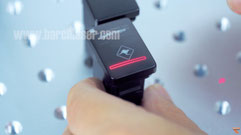 Engraving Non-metals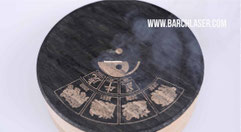 Engraving all metals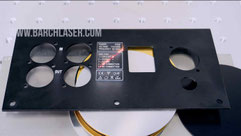 ---
Which brands are the most popular and why?
Four brands are the most sold in the fiber laser engraving machine industry.
Raycus

BCF

JPT

IPG

MAX

Super

SPI
Why are these brands the most sold?
There are more than 30 different brands for the power laser source, but at the time of work, these fiber power sources have their advantages.
Raycus
This brand is cheap, and this is the main reason most of the companies use it, is not famous for a quality engraving and also have less warranty than other fiber power sources. This brand also has a small range frequency between 20 to 80 kHz, which makes it have a short range of engraving materials. In comparison with other brands, Raycus doesn't offer too much advantage to the customer, but it can be very cheap, and as a result, machines build with this power source are low cost. 
JPT
This Singaporean brand has a different laser power source, some of them are limited by 20 to 80kHz (low-cost JPT), and other models offer less warranty. This brand is famous because it provides excellent quality, excellent engraving, and stability at the time of work with their premium models, as JPT-X or MOPA.
Max
Max is another fiber power source famous for being cheap, but the main difference between this brand and raycus is that max has better stability and a better warranty than raycus. Max has a small range of 20 to 80 kHz what it makes the brand have the same issues of raycus, a short-range of engraving materials.
SPI
SPI is one of the most famous brands for their high-quality engraving, stability, and warranty. The main advantage over other brands is the high-quality engraving and guarantee in comparison to the Chinese brands. Also, it has a wide range of materials that can engrave with excellent results.
BCF
Our power source is the most multifunctional of all those mentioned here, with a capacity to work between 1 to 850Khz, which allows us to engrave many plastics and metals with different color effects. Designed in Germany, it shares power and precision characteristics with SPI and IPG sources, with high engraving stability and high resolution on small engravings. With a 3-year warranty, our laser power source is one of the best options for engraving and marking jewelry, plastics, and leather at a reasonable price. It is becoming one of the most used in the market for being profitable, quality, and with an extended warranty.
MAX
Max is another fiber power source known for being inexpensive, but unlike Raycus, MAX laser generators have better stability than Raycus. The MAX fiber optic sources also have the same Raycus disadvantage with an engraving range between 20 to 80 kHz, which makes them share the same engraving drawbacks: little or no engraving capacity on plastics and low capacity for doing different effects on metal materials. The other significant disadvantage of the Max laser sources is their lack of clarity about the warranty. Sometimes, it is one year, and other times if the damage occurs within the first ten months, the warranty and repairs are users' responsibility.
SUPER
With an ability to work from 20 to 100 kHz, this power source has some more advantages than its direct contemporaries. Raycus and Max, opening the doors to the possibilities of marking on some plastics and leathers with greater clarity. The only disadvantage of this power supply is its short 1-year warranty, which makes it vulnerable to damage and low cost-effective, as these Shenzhen-made power supplies are more expensive than Raycus power supplies and Max, but with less warranty in practice.
IPG
Being the world leaders in fiber optic laser technology, IPG is the best brand for its high-quality engraving, stability, and guarantee. The main advantage over other brands, is the high-quality engraving jewelry and small electronic components compared to Chinese brands. They also have a wide variety of technologies, which allows us to choose the best source of laser power for engraving specific materials. If you have materials that no other laser machine can engrave, IPG laser has the solution. Which is why at Barch Laser, we work hand in hand with IPG Photonics, to be able to build machines capable of engraving on any material with high-quality results.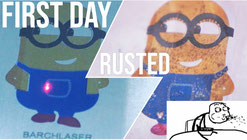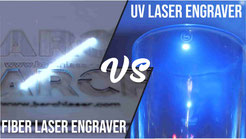 Which one is the best cost effective?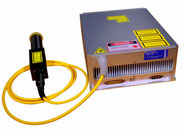 BCF
Advantage:
BCF 3 years warranty
kHz: 1 to 850
High stability
Laser bean 0.001
All metals 
and large variety of plastics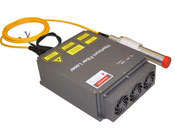 IPG
Advantage:
IPG 2 years warranty
kHz: 1 to 200
High stability
Laser bean 0.001
wide range of material
engraving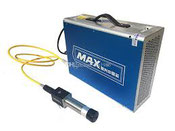 Max
Advantage:
Max 1 years warranty
kHz: 1 to 120
Laser bean 0.005
all metals and a short variety of plastics

Raycus
Advantage:
Raycus 1 years warranty
kHz: 20 to 80
Laser bean 0.005
all metals and a short variety of plastics
In conclusion, the most cost-effective fiber laser power source for engraving is the JPT premium or JPT-X that has a more extensive range of kHz and offers us the opportunity of engraving more materials with high resolution and high stability. The JPT-X Isn't cheap as Raycus or Max but at the same time is not that expensive as IPG, having almost the same quality as IPG. 
Why the kHz are so important?
At the moment of different engraving materials, we need to use different setups of kHz. That only translates that when we have more kHz, we can set up more different parameters to mark over more materials. That's the main reason JPT-X it can engrave more non-metal materials than other Fiber power sources.
Do you want to see what can you engrave with BCF fiber source?
---
You also may be interested on this blogs.