When we are buying a fiber laser machine we can find that many different brands are offering various fiber laser power sources. Some of them are Chinese power source brands, others are USA brands, and others are German brands. Amount all these brands of fiber laser power sources which one is the best? What's the difference between them? Which fiber power laser source is cheaper? Which one is the most popular? In this blog, we want to explain this to let you chose the right machine for your application.
There is a big difference
Many people wonder why some Raycus machines are so cheap, and IPG is expensive, all this difference in price is not only because one power source it is made in China and other it is made in Germany. The main difference is the engraving result, the quality of the machine, the final warranty, and the materials it can mark. This difference is also between Chinese and Singapore fiber power sources. If we compare JPT, Max, and Raycus, we can find that one of them is better than the rest of the Chinese and Singapore brands.

Which brands are the most popular and why?
Four brands are the most sold in the fiber laser engraving machine industry.
1) Raycus
2) JPT
3) Max
4) IPG
Why are these brands the most sold?
There are more than 30 different brands for the power laser source, but at the time of work, these fiber power sources have their advantages.
Raycus
This brand is cheap, and this is the main reason most of the companies use it, is not famous for a quality engraving and also have less warranty than other fiber power sources. This brand also has a small range frequency between 20 to 80 kHz, which makes it have a short range of engraving materials. In comparison with other brands, Raycus doesn't offer too much advantage to the customer, but it can be very cheap, and as a result, machines build with this power source are low cost. 
JPT
This Singaporean brand has a different laser power source, some of them are limited by 20 to 80kHz (low-cost JPT), and other models offer less warranty. This brand is famous because it provides excellent quality, excellent engraving, and stability at the time of work with their premium models, as JPT-X or MOPA.
The advantage of JPT is that this company offers premium fiber sources like JPT-X premium with 1 to 500 kHz. That is close to the quality of IPG, which makes JPT-X one of the most popular fiber power sources for being cost-effective, keeping high-quality engraving at a reasonable price.
Max
Max is another fiber power source famous for being cheap, but the main difference between this brand and raycus is that max has better stability and a better warranty than raycus. Max has a small range of 20 to 80 kHz what it makes the brand have the same issues of raycus, a short-range of engraving materials.
IPG
IPG is one of the most famous brands for their high-quality engraving, stability, and warranty. The main advantage over other brands is the high-quality engraving and guarantee in comparison to the Chinese brands. Also, it has a wide range of materials that can engrave with excellent results.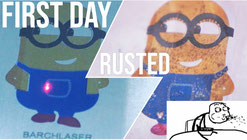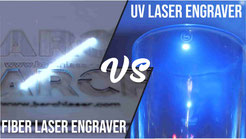 Which one is the best cost effective?
JPT-X
Advantage:
JPT-X 3 years warranty
kHz: 1 to 500
High stability
Laser bean 0.001
All metals 
and large variety of plastics
IPG
Advantage:
IPG 2 years warranty
kHz: 1 to 200
High stability
Laser bean 0.001
wide range of material
engraving
Max
Advantage:
Max 1 years warranty
kHz: 1 to 120
Laser bean 0.005
all metals and a short variety of plastics
Raycus
Advantage:
Raycus 1 years warranty
kHz: 20 to 80
Laser bean 0.005
all metals and a short variety of plastics
In conclusion, the most cost-effective fiber laser power source for engraving is the JPT premium or JPT-X that has a more extensive range of kHz and offers us the opportunity of engraving more materials with high resolution and high stability. The JPT-X Isn't cheap as Raycus or Max but at the same time is not that expensive as IPG, having almost the same quality as IPG. 
Why the kHz are so important?
At the moment of different engraving materials, we need to use different setups of kHz. That only translates that when we have more kHz, we can set up more different parameters to mark over more materials. That's the main reason JPT-X it can engrave more non-metal materials than other Fiber power sources.
Do you want to see what can you engrave with JPT-X fiber source?
---
UV laser engraving machines
Fiber laser engraving machines
---
You also may be interested on this blogs.